Cyber Monday Deals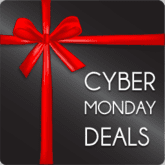 Cyber Monday Deals Expire at Midnight!

Here at GourmetCoffees, we know you're ready for a sweet discount on your gourmet coffee. Don't wait any longer, because these Cyber Monday Deals expire at midnight tonight! For a limited time, we're offering special pricing on these select products below.
Cyber Monday Deals qualify for $5.95 Flat-Rate Shipping!
So take advantage of these deals and do your Christmas shopping with us. In addition to high-quality coffees and teas we also provide Personalization, customized shipping dates, variety, and of course the freshest coffee online!
Click here to find out more.


Personalization: Unlike other coffee roasters, we'll print your recipient's name right on the bag! That's right, not only is your recipient getting the freshest gourmet coffee around, but they'll really appreciate that extra touch of personalization. When you place your order online, the "ship to" name is the name that will appear on the bag. If no "ship to" name is provided, the "bill to" name will appear instead. If you need a different name or no name on the bag, please phone in your order (678-807-1003) and we will make sure that your personalization goes out as you specify.
Custom Shipping Dates:
Even though it's not quite Christmas yet, you can still get your holiday shopping done in advance and have fresh coffee delivered by that special day. We offer the ability to select a customized shipping date when you order online. Just set your ship date when you check out and we will roast and ship your order on that designated day. Be sure to check our ground shipping map below and choose your date accordingly:

Click to enlarge
Variety
Are you unsure which coffees your recipient would like? Give them a sampler or gift set and let them try several different kinds at once. We have options available for every taste and budget. Check out some of our most popular coffee and tea gifts to make your holiday shopping that much easier:
Not on our email list? Subscribe on our
email signup page
and we'll keep you posted about our Black Friday Deals and other future promotions.